Spinal Decompression in Greenville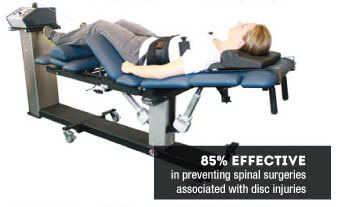 If you would like to prevent potentially risky surgery and free yourself from pain, spinal decompression at Disc Doctor on Main may be the ideal solution. Our specialized table uses a gentle pull and release to allow fluid and nutrients to rush back into the space between discs, jump-starting the healing process.
What to Expect
As you lie comfortably on your back or stomach, you will have access to a button to pause the table at any time, with a member of our staff only steps away for each part of your therapy. Each person's treatment plan is individualized to their needs. We generally recommend around 8-20 visits in total, though you may start to feel relief after just a couple of sessions.
Along with spinal decompression, we may recommend complementary therapies such as
Pettibon
and
Active Therapeutic Movement
(ATM®2), maximizing your recovery and rehabilitation.
Jumpstart the Healing Process Today
Schedule your appointment by contacting our team. Same-day visits are available. CONTACT US
---
Spinal Decompression Greenville | (864) 757-8999